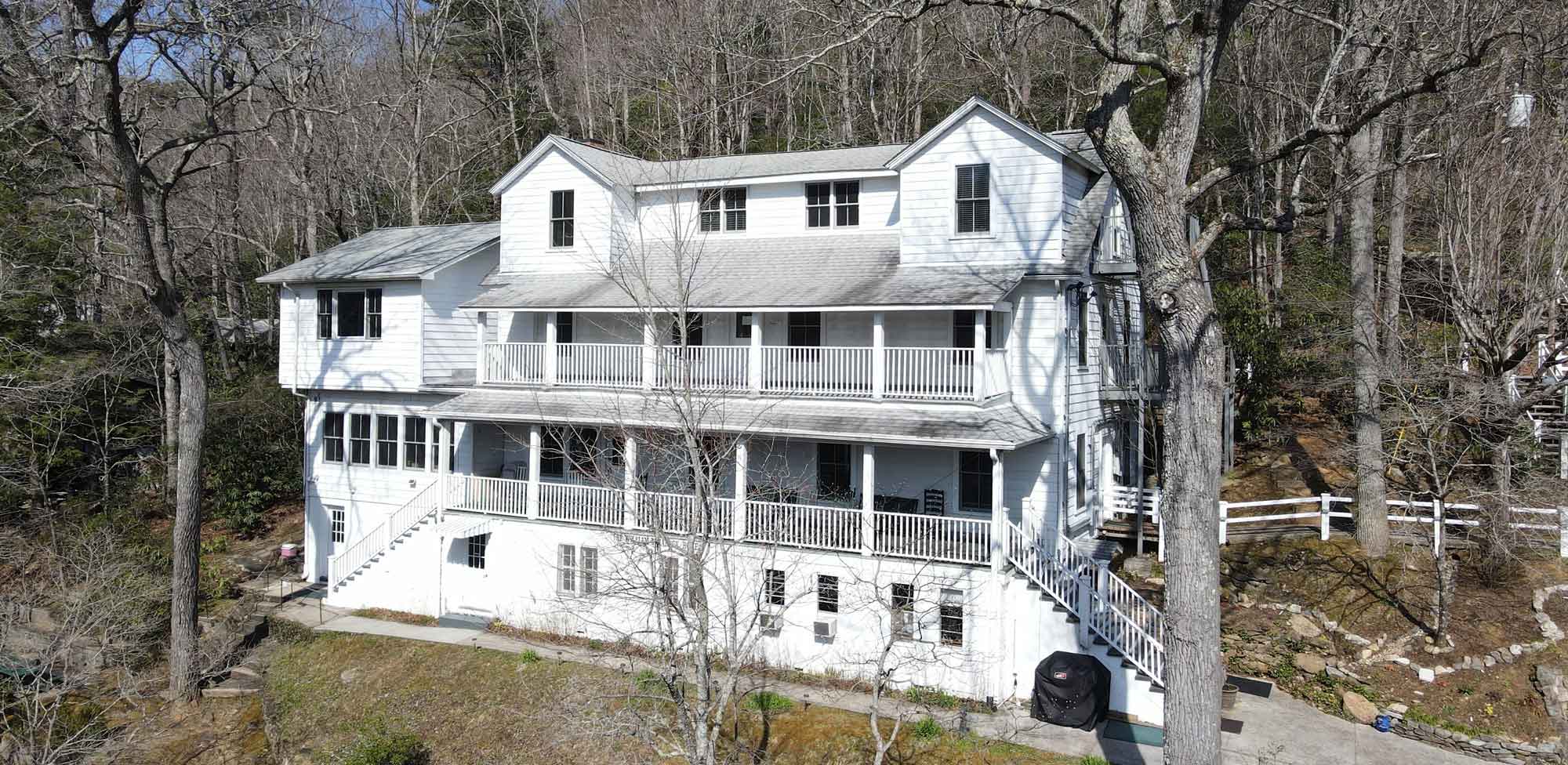 Arrivals
We strive to make SC Inn a self service guest lodge. It should feel like your home in the mountains. At the time of your arrival, please make yourself at home and head to your room(s). The keys to the Kirk Apartments can be found in the apartment door that you reserved. Rooms in the house, other than the Suite, do not have keys, but do lock from the inside. The staff of SC Inn are usually around during morning hours to answer any questions or address any maintenance concerns. SC Inn staff and others may not be available to answer the guest phone and it has no message capability. Please call the office line to leave a message. Cell phone coverage is spotty in parts of Montreat but usually very good for most providers at SC Inn.
At the bottom of contact page there are details on how to find SC Inn. Parking is located beside the Kirk Apartments as well as on up the drive behind the apartments. Parking may also be available along South Carolina Terrace but it is often filled by Montreat students vehicles during the school year. Car-pooling is suggested due to limited parking in Montreat during peak seasons.
The mountains of Western North Carolina have periods of abruptly changing weather through all the seasons. During the summer we can have days in the 90's and evening temperatures can drop into the 50's. It is suggested that you bring along multiple layers of clothing. Umbrellas are also a good idea at times. Montreat offers 20+ miles of great hiking trails so bring your boots! There are also many very popular mountain biking areas around. SC Inn makes a great "base camp" for those wanting to get out and explore all that this area has to offer.
For your convenience, we provide towels and bed linens in both the William Brearley Home and the Kirk Apartments. In order to help keep room fees down, guests are expected to make their beds upon arrival and to leave rooms as orderly as possible prior to departure. Please return only towels and sheets that were used to the laundry hamper located in the Patio Kitchen prior to your departure. Check-in and Check-out procedures are posted in each room.
Check In 3:00 pm Check Out 11:00 am
Breakfast is served from 7:30 a.m. to 9:00 a.m. in the main kitchen when there are 12 or more guests registered. Serving time can vary with group size and time requirements. Please check with us prior to your arrival to verify availability. (Exception) Serving hours are 7:00am till 8:30am during the two Worship & Music Conference weeks. We attempt to provide a full country breakfast with a variety of choices. We will be glad to answer any specific questions regarding ingredients. If you have any special dietary requirements it is suggested that you provide your own. The suite and kitchenette apartments, all except 101 and 102, are equipped with cooking utensils, dinnerware, microwave, toaster, refrigerator, and range/oven. There is the "Patio Kitchen" available 24/7 for guest use in the main house located on the ground floor next to the main kitchen and dining room.
Your reservation balance is due prior to departure and can be combined with any breakfast expenses. Credit cards are now accepted (Visa & MC) as well as cash or checks. Please see the Reservations Page for more details.
We look forward to seeing you and hope you enjoy your stay at South Carolina Home.