South Carolina Inn at Montreat
400 S Carolina Terrace
Montreat, NC 28757
828.669.7460 or 800.669.7460
Your Home in the Mountains
Located in the beautiful village of Montreat, North Carolina, nestled in the foothills of the Black Mountains, the South Carolina Inn is open year-round. The inn is owned, operated, and supported by the Presbyterian Churches USA of South Carolina. Although the inn gives priority to and provides a retreat for clergy, families, individuals, and attendees of Montreat Conferences, we also welcome and provide lodging for groups, families, individuals, and anyone seeking respite from everyday life. The South Carolina Inn is a hidden gem, perfect for reunions, workshops, and large gatherings. For a suggested donation, the Inn will provide a southern-country-style breakfast for groups of 12 or more. Conveniently located on the edge of the Montreat College campus, the South Carolina Inn provides affordable accommodations for students' families when they come for orientation, attend sporting events, or when they just want to have brief visits with their loved ones.
Looking for a safe and peaceful getaway during the current pandemic? The Kirk Apartments provide a private space where you can cook your own meals and relax in nature's beauty. Bring your laptop and use our High-Speed WIFI to continue working in-between hikes with spectacular views or strolls around Montreat. The apartments also include 2 ADA handicapped accessible units.
The Brearley House provides guests with spectacular views of the Montreat Valley and surrounding ridgelines leading into the Town of Black Mountain and the Montreat Conference Center. This building built in 1912 provides 16 dormitory-style rooms (twin beds or double) with assigned bathrooms and 2 common areas, one with a fireplace and the other with cable tv. Houseguests also have convenient access to a full kitchen.
Tucked at the end of the House, for a very private stay, ask about our jewel, Suite Carolina. This efficiency suite has its own entrance and the best view of the valley. Complete with a full kitchen and queen bed, it is the perfect hideaway for a retreat, honeymooning, or anniversary celebrations.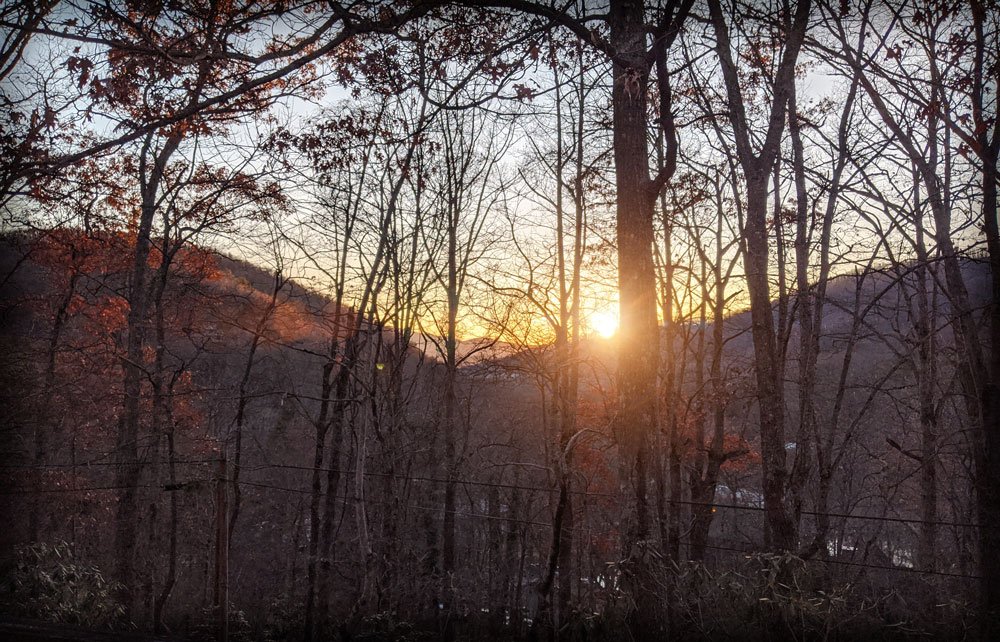 Sunset from the porch of the Kirk Apartments.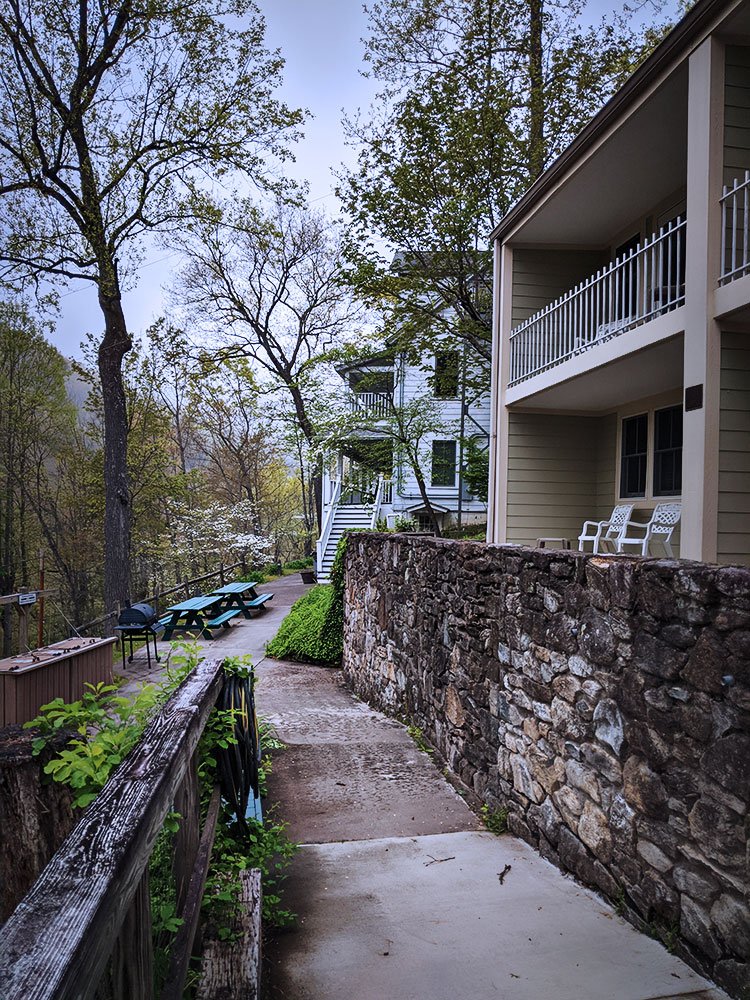 Kirk Apartments in the foreground with the Brearley House in the back.